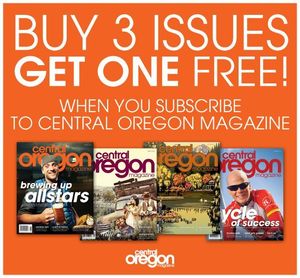 $

14.95 - On Sale
Central Oregon Magazine is your companion for the High Desert lifestyle. Published quarterly by Combined Communications, COM offers the very best of people, stories, places and events in your local community. Pick up our latest issue today!
1 Year of Central Oregon Magazine, The Magazine of the High Desert for only $14.95, shipped directly to your door.
On checkout select "Pickup" Shipping, as shipping is included in the subscription price.